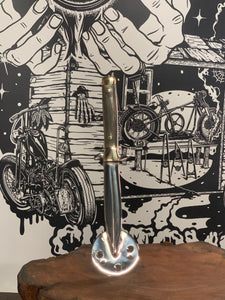 This is our #jerkshivter Jockey shift 
Inspired by our mate Seamus and his panhead. 
Using some stainless steel and Combining brass accents and pins with locally sourced Tasmanian oak for the handle shes an eye catcher that will age well over time.
Desinged to be bad to the bone at 11" overall  and seamlessly welded to our ratchet top shift plates this is the centrepiece for your chopper you have been waiting for.  
Made with the rider in mind so it fits nicely in the hand for smooth shifting. 


Are you bad to the bone baby ?