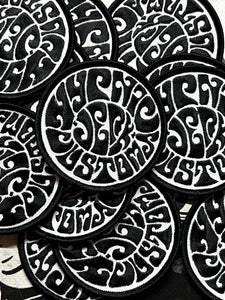 Our very good mate Marc Cinacotti from @Mc_custom_creations surprised me one night with this radical hand drawn design, loving it we started to roll them out in our sticker packs and the response was amazing. We wanted to immortalise them forever Taking this over to another good mate that made this possible
That guy is Nick and he's the brainchild behind @Nicotinepatches. Nicks the reason we were able to bring you such beauty's like our Whispering eye pins and all our patches in the past. 
With his super quick turnaround time, competitive pricing and killer quality the choice to do a run of these trippin out patches was again an easy one. 


That Hand drawn stitching looks great in black on white fabric with a black border
* these babies measure in at 70mm OD